Product Application Example
DuxTel infoNet
Background
As the prevalence of modern WiFi enabled smartphones grows internationally, the mobile web browser will become as important to consumers as television and desktop internet access has been to the generation of the 90s.
Capable of higher bandwidth and broader range than Bluetooth type proximity services, information delivered to the mobile consumer over WiFi is capable of rich media applications containing highly relevant and personalised information.
Already, handheld devices like smartphones and tablet computers are being recognised as a valuable resource for information delivery and proximity marketing.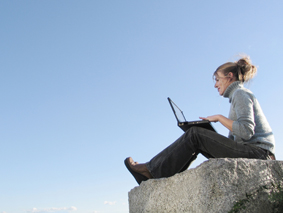 The DuxTel solution is the culmination of many years of product development and enhancement, and delivers all of the administrative controls required to manage access to information in public spaces in a tightly controlled, yet flexible, manner.
The DuxCommander system comprises a fully functional combination of hardware and software systems. The hardware components are deployed to suitable and convenient locations throughput the information delivery area, and the software and management system is delivered out of our secure datacentre facility in Geelong, Victoria.
Under this shared infrastructure delivery model, the DuxCommander system is cost effective for most project deployments, especially for pilot projects and limited time deployments (e.g. festivals and special events)
With a DuxTel information delivery solution, every handheld and mobile device capable of WiFi connectivity becomes an instant information terminal acting as a conduit to deliver timely, location aware content to visitors.
Just like having a touch-screen information kiosk in every pocket!
Furthermore, the sophisticated tracking and logging functionality of the DuxCommander solution collects access and usage statistics capable
How it Works
One or more DuxMaster Gateway appliances are deployed to the site to act as a gateway between the information delivery network and general internet. Each DuxMaster gateway can be independently controlled and managed, and collects location-based access and utilisation statistics.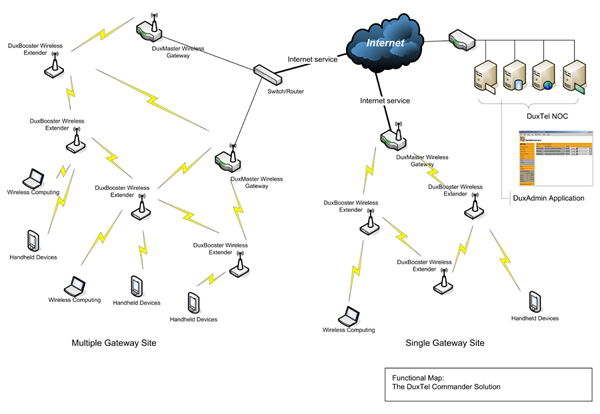 DuxBooster Network Extender units are deployed to suitable locations with available power supply and within wireless range of one or more DuxMaster or other DuxBooster systems. The DuxBooster scans the area for other participating DuxTel devices, and selects the best signal to establish a connection. If that device goes offline, it will automatically switch to another available network unit.
The DuxMaster gateway systems communicate with the DuxCommander infratstructure over secure VPN to manage access to information resources.
Proven Technology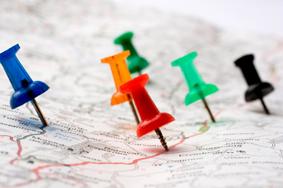 The DuxCommander solution is currently in use today in a wide variety of deployments throughput the Eastern States of Australia, delivering services to thousands of independent consumers under more than a dozen independent brands. DuxTel customers include ISPs, both wireless and traditional, Hotspot providers, local council FreeNet operators and Web site developers.
Deployed locations include Gold Coast Tourist resorts, student accommodation centers, retirement villages and rural wireless ISPs.
The DuxTel Internet Commander delivers a turn-key solution based on proven technology, ready for deployment to any indoor or outdoor location – today!
Integrated Roaming and Tracking
When connected to any broadband internet service, the DuxMaster device automatically establishes a Virtual Private Network (VPN) link back to the DuxAdmin application, and is therefore capable of immediately becoming a part of a wider network entity, thus sharing information distribution and access services throughout the virtual network community, and even track individual device IDs and usage habits.
System Components
For organisations considering use of the DuxCommander solution for their own information delivery solutions, the following components are required:
DuxCommander: The information portal delivery solution comprising DuxMaster, DuxBooster and DuxAdmin components (plus other modules not discussed in this context)
DuxMaster Gateway Appliance: Access controller hardware deployed to control and manage access by wifi users to internet resources
DuxBooster Network Extender: WiFi mesh device deployed to 'extend' the wireless network range of the base DuxMaster Gateway, or other DuxBooster Extender
DuxAdmin Portal Control Application: Administration solution accessed via web browser used for administration and configuration of service parameters and view reporting results